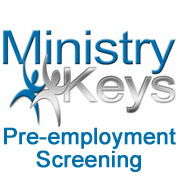 MinistryKeys Candidate Assessment (20 reports)
Price:

$250.00
About:

How important is it for you to hire the right person the first time? We are excited to now offer you the same full-featured pre-employment screening and assessment program used by many Fortune 500 companies.

We've taken this awesome time-saving tool and totally revamped it for ministry use!

MinistryKeys is a comprehensive assessment system that that matches each person that applies to your position with your church's unique mission, vision, and values. We do this by assessing each applicant's temperament / behavior using a Biblical DISC survey specifically formatted for ministry, workplace values, and team thinking style. You can specify specific questions during the pre-screening process that apply to your specific ministry setting (things like worship style, theological training/background/beliefs, etc.)

The end result is each candidate is given a preliminary score that matches them to your specific job offering requirements. No more stacks of resumes to weed through individually! Let MinistryKeys pre-qualify each candidate to your specific needs!