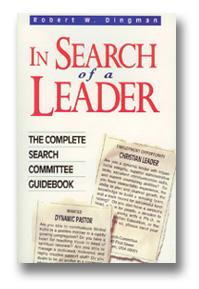 In Search of a Leader
Price:

$15.00

$10.49
Author:

Robert W. Dingman
About:

IN SEARCH OF A LEADER is THE guide for search committees...perhaps the best guidance possible is available in this book. Written by the foremost recruiter for Christian organizations, Bob Dingman, recently retired. While written for churches, it's good for any non-profit...churches, schools, rescue missions, etc.

Topics include "Forming the Search Committee," "Who are We and Where are We going," "What do we want in our Leader," "Looking for Candidates," "Evaluating Candidates,", "The Fine Art of Reference Checking," "What is a good Leader Worth," and "Welcoming the New Leader."

The biggest danger to any search committee can be what they do not know about how to manage a well-run search and evaluation process. This book points out many of the potholes in the journey so they can be avoided.